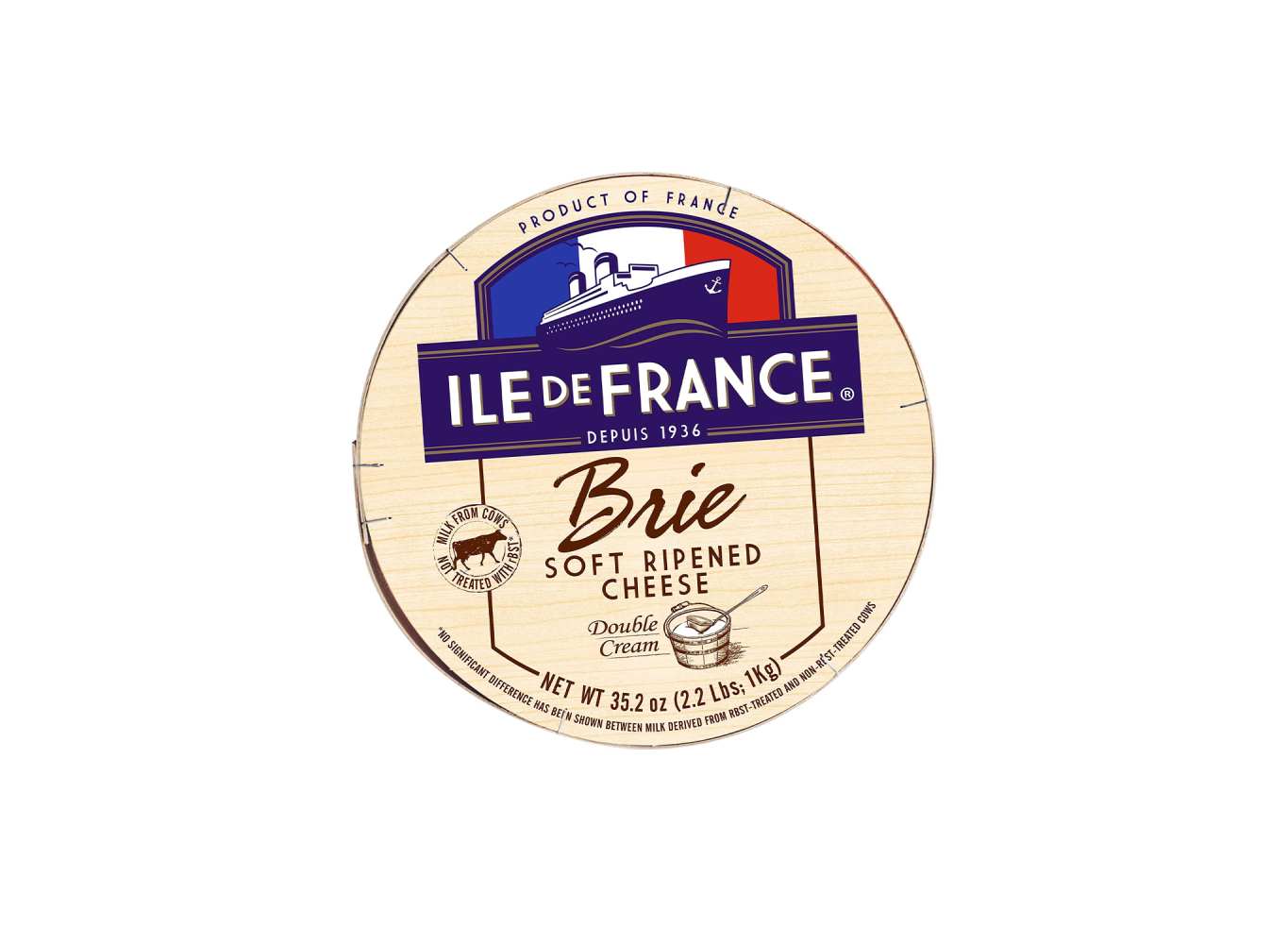 Ile de France Brie
Ile de France Brie is genuine natural soft ripened cheese. It has a creamy and mild texture with an authentic yet accessible Brie Taste with mushroom notes.
Choose your format in pounds :
Experience the time-honored tradition of Ile de France Brie, an authentic French cheese with a storied history dating back to 1936. Delight in its smooth, creamy texture and delicate bloomy rind. Indulge in the rich, buttery flavor that has made it an enduring classic. Discover the unmistakable essence of Ile de France Brie, a testament to the art of cheese-making excellence.
Ile de France's Brie is delightful just as it is, on country bread, which will complement this cheese's slightly nutty taste. You can also add it to your delicatessen boards, your pasta dishes or spread it on hot toasts, to let it fully melt and flavor your meal.

Immerse yourself in the essence of Ile de France Brie, a testament to the artistry and excellence of traditional cheese-making.
Place of manufacture:
The 1KG Brie product is sold in cases of two and is made in France.
The 3KG Brie is sold individually (random weight) and is made in Kolb Lena, Illinois.
Refrigerated temperature / Storage conditions: need to be kept refrigerated
Delivery times: We process orders once the payment authorization and verification have been obtained. We ship via FedEx, delivering within one (1) to two (2) days.
We also process orders as they are received (first-in first-out) and depending of the season it may take a few days between receiving the orders and shipping them.
Please note we ship from Monday to Wednesdays (2) days. No shipments on Thursday- Friday-Saturday or Sunday to avoid the cheese being stuck in transit during the weekend.
Ingredients: Pasteurized milk and cream, salt, cheese cultures, enzymes, penicillium candidum and geotrichum (harmless white molds), vegetarian rennet.
Contains Milk

Creativity in the kitchen is what makes the difference!
Because our products can be consumed in many ways, here are some inspirations to diversify your uses
Awards winning cheese
World Championship Cheese Contest of 2020
Silver medal